Craft Supply Collecting
As a pro organizer and craft supply "collector," I have some tips for anyone organizing creative spaces... and yes you read that correctly. Collecting craft supplies is a thing.
Be sure that your space and purchases align to the way YOU craft- what does it look like when you are in your zone? At the end of the day isn't this the goal for your space?
Questions to Ask Yourself about Your Craft Room
I have seen some beautiful spaces that weren't as functional for the crafter as they had envisioned…so I recommend starting with questions such as these:
What crafts are you into RIGHT now? What crafts do you currently enjoy? What project(s) are you itching to complete? (We won't talk about the others right now.)
For example, I have been into several things like art journaling, Cricut, scrapbooking, stamping, Copics… and whatever else came along. Knowing what I'm into RIGHT NOW helps define the zones of use.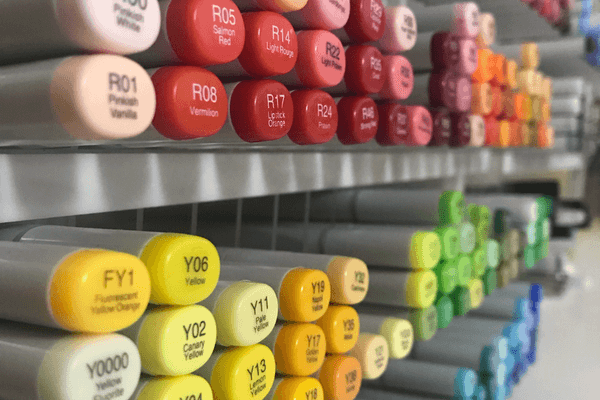 What is your crafting style?
I'm a sporadic crafter. I go through phases of high octane crafting followed by a dormant craft space. When I get in mode… watch out. It looks like a tornado hit! Then, when the process is over, I like to have everything back in its "home" so that when new inspiration comes my way I can hit the ground running again…
What about crafting brings you joy?
For me, it's that creative high when I'm in "mad scientist" mode. And the sense of accomplishment when I finish a project- followed by the connection I feel when giving it away.
My craft area needs to support this joy. A lack of counter space or inability to find the little embellishment I am looking for just frustrates me and then… it piles up. Nobody wants that!
When was the last time you loved your space or got in your "zone" - what elements do you need to recreate to experience this again?
Maybe you prefer to craft standing up- or in a task chair. Maybe you need more lighting or temperature control.
Self care has never been more important than it is now. Craft rooms are a great way to practice self care and taking a few minutes to answer these questions will help you plan your creative space so that it brings you all the joy!
Reach out for help with your craft room plan from anywhere around the globe. I have coached clients in Australia, Germany and all over the United States. You really can collect all the supplies you want and enjoy them!