Generally speaking pantry organization is important and so much fun, especially with the help of a professional organizer! Efficient pantry kitchen storage will always save time and money for you and your family.
Here are some tips and tricks to help you create efficient kitchen storage and pantry organization.
"Like with like" is just one way to create efficient kitchen storage.
Yes, you can group essentially identical ingredients for example store dry goods together and cans together.
Additionally you may have baskets or a lazy susan with similar items such as oil / cooking oils together and butter / butters or spices together and in another basket pasta / bread / sauce.
This is a traditional way of organizing the pantry.
But there may be a better way to utilize the space in efficient pantry organization.
Firstly consider usage.
Make sure your routines are planned out and design storage spaces around the area. A professional kitchen organizer may refer to these as "zones."
Examples of these zones include: coffee station, food storage, school lunches area, or an exercise fuel bin with energy bar and sport drinks. This creates a system so that you can easily access what you need and always know which baskets or what shelf to look in so that you save time and feel the benefits of an organized kitchen.
You'll need a "first in, first out" system.
When you shop, have you ever noticed how they stock the produce section at the grocery store?
They push older fruit into the forefront and add new produce to the back. This practice helps the consumer find older products first and thus helps to reduce waste simply by managing the location of each category.
Follow this first in first out method in your pantry organization system. Some items you could have multiples of (think drinks, chicken broth cartons, cans or even bags of cereal). Check for an expiration date and rotate just like they do at the store. This will ensure less waste and reduce trash.
Also keep this tip in mind when you consider where fruits and vegetables will live.
You may prefer your fruits out on the counter for easy access or possibly tucked away for a neat space. A pretty bowl is a great option. Just be sure to rotate the produce!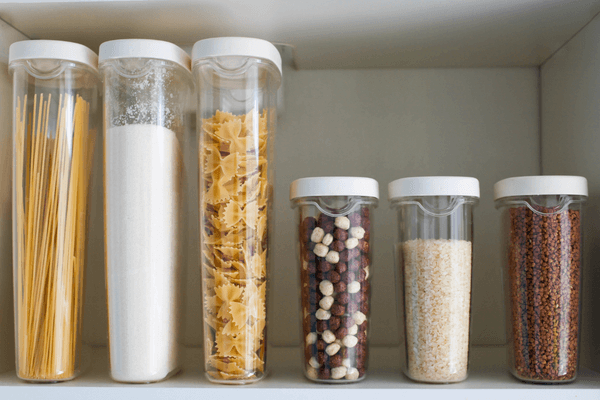 It helps to have a big mouth.
Some people store dry goods large mason containers or other storage containers in the pantry. A problem we have noticed is that sometimes the mouth of the jar is too small to put a measuring cup or spoon inside.
When choosing a container, think about the best method of retrieving the flour, sugar or rice from the container.
Does a measuring cup fit inside the mouth of the jar or dispenser? Will a spoon fit inside the spices if needed? Those with a large mouth must be purchased so that your measuring utensils fit inside.
You'll need a plan for larger food items in the pantry
Are there any food and beverage items you can purchase at Costco? We all do it...
Its highly recommended that you plan a storage shelf in the pantry to store larger items. You will be glad you did! They need to be easy to access and may even sit on the floor of the pantry to keep the kitchen looking clean and tidy.
It's important to go through everything in a kitchen to ensure it has enough space for a shelf or two for large items when remodeling. Trust us... we know from experience with remodeled kitchens that didn't consider a shelf, cabinet or drawers to accommodate the large items purchased when shopping bulk. And while the garage is always an option, its less than ideal for daily essentials.
Decanting has everything to do with aesthetics
Next time you visit the Container Store, check out their pantry organization. You will notice it all looks very clean and tidy.
One secret to getting this look is to shop for matching glass/acrylic containers. They always look great on the shelf in a pantry or even on the counter. Baskets are a great trick to create this clutter free look as well.
And also non-food stuff...
Don't forget to plan storage for small appliances, pans, and cookware. How can you use cabinets, an over-sized lazy susan and other racks to optimize storage?
Counters are often used for small appliances but the look is often more tidy if they can be stored inside cabinets or the pantry to reduce the appearance of clutter. Think of rice cookers, air-fryers, mixing bowls and mixers...
There is a way to organize these while making an effort to not fill the counter with a mess of unnecessary clutter.
You can also utilize a special rack to organize pans and lids to keep the cabinet organized and the kitchen feeling clean.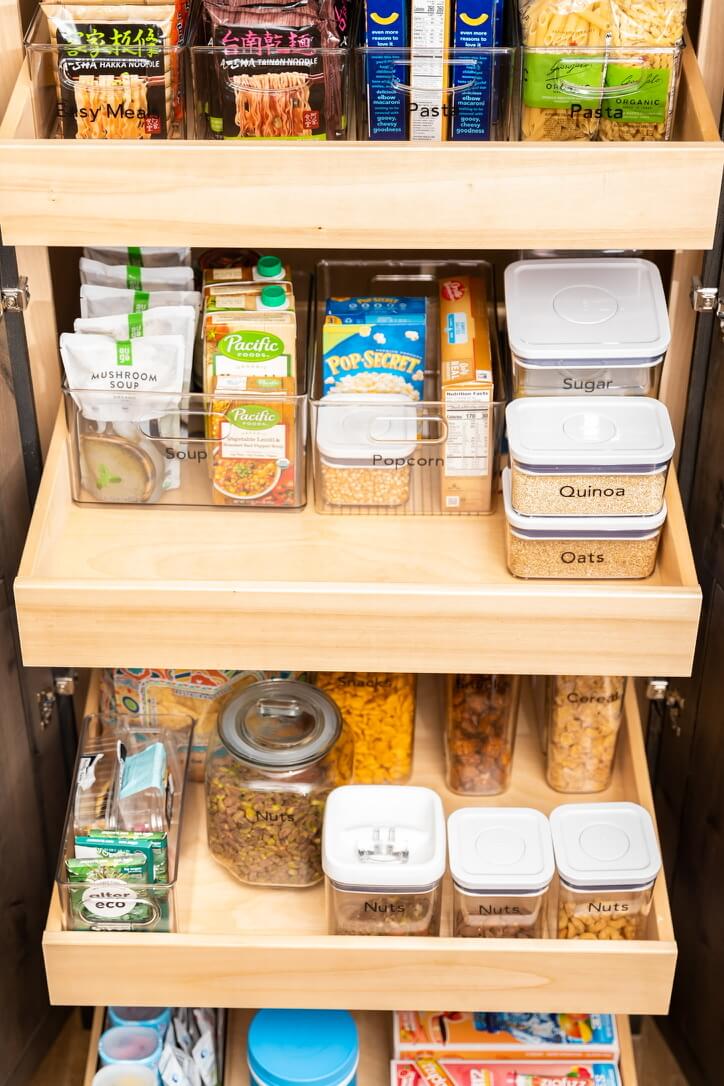 Consider pull out drawers in the pantry.
Roll out shelves and pull out drawers are available from specialty companies in Denver as well as The Container Store.
They make it much easier to optimize the space in a cabinet and so much easier to search for items without added steps.
Don't forget to label everything in the pantry.
Labels can be simple or customized and beautiful. It just depends o the look you are trying to achieve.
A vinyl cutting label maker is a popular option with professional organizing services.
The decanted items in the pantry look awesome with a custom label... and they look great with printed labels in customized fonts as well. The right labels will take a pantry from ok to amazing! Hire a pro if you need help.
Before you head to The Container Store...
Consider how your kitchen is currently used and get really present with what you want it to look and feel like. Then consider if services such as those we offer may help you actually create the pantry or kitchen you are dreaming of.
We know all of the best products, tips and tricks to make any room in your house amazing!
And we offer coaching if you would prefer to do it yourself.
Create your dream pantry with a professional kitchen organizer in Denver.
With help from a professional organizer in Denver, you can create the pantry space you have been dreaming of.
The team at Organized by Keli & Co are experts in kitchen and pantry organization and know all the right storage containers to source from The Container Store, all the tips and tricks to optimize vertical space and minimize clutter.
They can create a space with the essentials for storing and creating a quality pantry so you can relax.
The pros at Organized by Keli & Co will even do the shopping to make your pantry complete. Schedule a consult for more information.
Originally posted FEBRUARY 5, 2022