As a fan of DIY ourselves, we thought we would create an easy 5 step process for the go-getters out there that want a little guidance to create efficient kitchen storage and optimize cabinet space. And because kitchens seem to be people's highest priority and hardest to maintain, we want to shed the light there.
Any organized kitchen has 3 key components.
1 - FLOW. To effectively cook and bake without also running a mile in between your cookbook instructions, kitchen items need to be in the RIGHT home. Most non kitchen items in a home can have more ambiguous placements or even multiple places to reside. But in a kitchen - most items have permanent residence.
2 - FUNCTION. Now this is different from flow because it's not about WHERE the items are located but about HOW and WHEN you use the items that have been stored in their appropriate home. If you use an item everyday, unlike those Christmas dishes, then that item must be easy to access and easy to put away. It should be right at your fingertips and no brain power to maintain it.
3 - FIT. Finally, and possibly the most important, is WHO uses the items. Some people bake. Some cook. Some both and some neither. Some are breakfast fanatics while others skip it entirely. And some of us have little people running around who also have a say. Whatever the case, your kitchen needs to FIT you, your family and your lifestyle.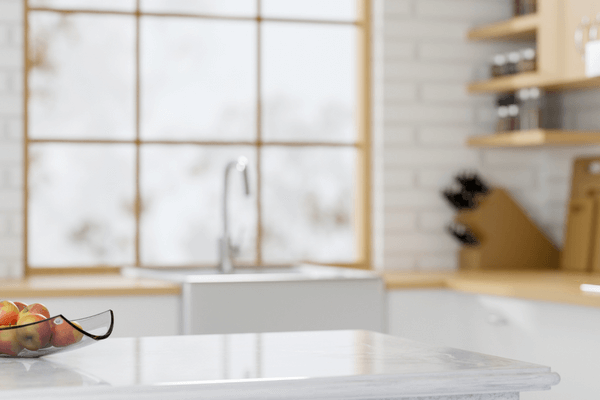 Disclaimer - if you have food in your kitchen, besides oils, vinegars and spices, then you'll want to save those items and questions for our upcoming

pantry

DIY blog.
Step 1 - Every good kitchen organization plan starts with some thoughtfulness.
Determine who you are, what you like and what you and your family's needs are. This will help steer the FLOW of your kitchen to FIT your style. Also consider how you feel about counter space (everything clear or easy access) and inside the kitchen cabinets (Functional, inspiring or a combination of the two). A quality kitchen organization project will begin with knowing the end result that feels best to you and your lifestyle.
Step 2 - Pull everything out of the kitchen cabinets and drawers.
As you remove it, sort and categorize it on the counter space. Once you have it all out, including the pots and pans as well as the racks you store them on, you will be ready to make some decisions and what to discard and donate. With each item you take out, question its reason to be there. Is it actually meant for the kitchen? Do you use it? Do you love it? Did you forget about it? Are you happy it's no longer lost? If you ultimately decide it DOES need a home in your kitchen then set it down in a designated area where other items going back in are. Create piles of like items so when they do go back in, they have FUNCTION and FLOW.
Step 3 - Plan out the kitchen organization strategy.
EVERY kitchen storage and organization project is different. Some have more cabinets than drawers, some have a stove in the island and some have open shelving.
Anything that has to do with oven needs to be as close as possible to the oven. And dishes by the dishwasher, etc. Easy enough right. The tricky part is when the oven and dishwasher and sink are all close to each other and they share the same drawers and cabinets. It's then you go back to step 1 and remember your top priorities and needs. If you're someone who cooks more than bakes, then make sure the cooking items like pots, pans, spatulas etc are MORE accessible than the cookie cutters and baking sheets. Bring it back to the FIT and FUNCTION.
For more detail about planning out the space consider the location of each kitchen organization category:
FOOD PREP: next to the sink when possible

Knives, cutting boards, colanders, salad spinner, mixing bowls, measuring cups, cheese graters, mandolin slicer...

COOKING: drawers or cabinets next to stove when possible

Pots and pans, oils, spice racks, cooking utensils and gadgets, oven mitts, trivets...

CLEAN UP: the cabinet under the sink

Cleaning products, dish towels, sponges, dishwasher detergent, soap...

SERVING: cabinet between dishwasher and table

Bowls, plates, utensils...

For additional info on storing dishes, check out our feature in this porch.com article

COFFEE/TEA and BEVERAGE: near fridge or sink and an outlet

Drinking glasses, coffee mugs, tea bags,

Wine glasses same cabinet as drinking glasses, but on a higher shelf (unless you have a bar)

Travel Mugs shelf above everyday mugs (unless separate shelf available) and ensure containers for lids are accessible

Water Bottles shelf above drinking glasses (unless separate shelf available) again ensure lids are accessible in containers nearby

KIDS: lower cabinet shelf or drawer for accessibility and independence

Plates, bowls, cups, bibs, utensils, bottles

Include small storage bins for accessories such as lids, utensils and more...

FOOD STORAGE: drawer or cabinet near refrigerator and freezer

Plastic ware, plastic wrap, aluminum foil, tupperware, glass pyrex storage, lunch bags

Add storage bins for the plastic lids and jars

UTILITY: furthest drawer

Candles, tools, pens & pencils, and other accessories.

BAKING: cabinet near mixer/oven

Cookie sheets, cookie cutters, muffin tins, baking pans

SMALL APPLIANCES: in a bottom cabinet - easy access

Hand mixer, Ninja blender, slow cooker, blender, Ninja foodie, Instapot can opener, waffle maker, air fryer, stand mixer, popcorn maker

Be sure that there is enough room to access items easily

SERVE WARE: top shelf of higher cabinet

Platters, cake stands, cheese boards, large salad bowls, gravy boats

ZONE 2 SMALL APPLIANCES: live above the fridge or under the bar area with stools, pantry, storage, garage

Bread maker, juicer, deep fryer, pasta maker, spiralizer, meat grinder, egg cooker, george foreman, panini press

ZONE 2 SERVE WARE: credenza/hutch, bar stool side of bar, pantry, storage or garage.

China, Seasonal dishes (Hanukkah candles, long candle sticks), Disposable plastic/partyware, large platters

MEDICINE: high shelf not accessible to small children

Pain relief, muscle rub/balm, ointments, cold and flu, digestive relief, allergy relief, pain relief patches, sunscreen

FIRST AID: doesn't need to be in prime real estate area but needs to be high enough that small children can't access.

Neosporin, bandaids, wraps, kits, gauze, braces, athletic tape, alcohol, hydrogen peroxide
Step 4 - Product. To effortlessly maintain the space you expertly designed and planned, you need at least SOME product to create boundaries and rules for yourself and the other people running around in your home.
We made a list of our top 5 favorite products that we ALWAYS use in for kitchen storage optimization, even in a small kitchen.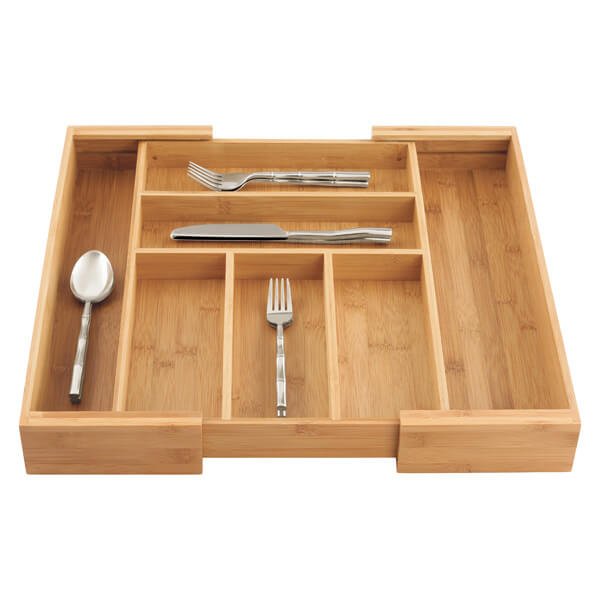 EXPANDABLE SILVERWARE INSERT
Silverware gets used every day and probably multiple times a day for everyone. But despite its frequent use, I would say most, if not all, people maintain it. This is an organization tactic that I think everyone has adopted - so hey, you CAN say you're organized! This specific drawer organizer is one I recommend however because it expands to fit the drawer and allows for other utensils like straws and chopsticks to prevent getting lost alongside the forks, spoons and knives.
EXPANDABLE DRAWER DIVIDER
LOVE THESE! We use them for the kitchen gadgets, serving utensils, large kitchen utensils and anything else that needs just a little extra separation. They expand to fit most drawers and you can use multiple in each drawer depending on the boundaries you need to make.
3 TIER SPICE SHELF
Just like the lazy susan, the 3 tiered shelf gives you more visibility and easier access to the items that get lost in the way back. So you can finally use the canned goods before they expire. it stand out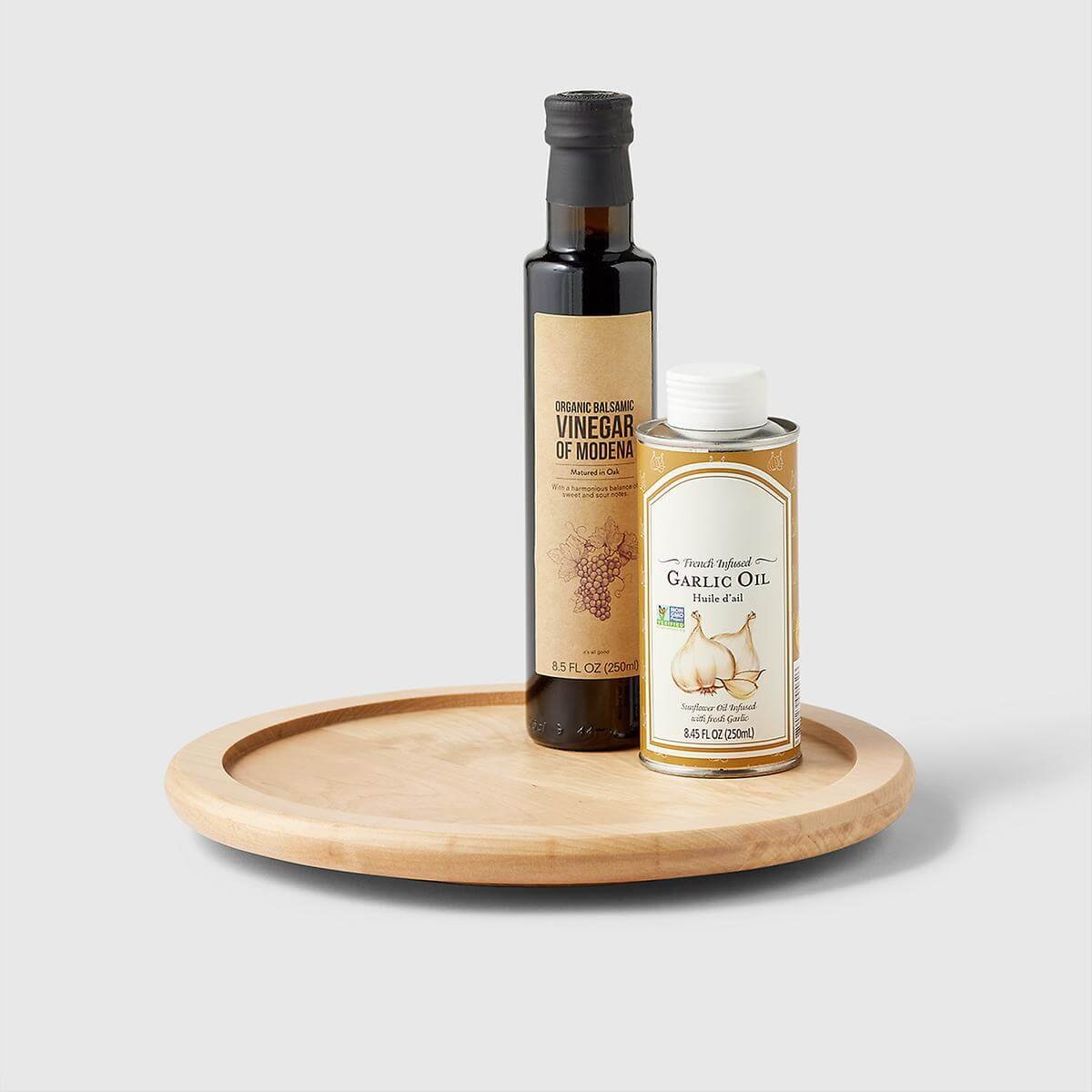 CABINET ORGANIZERS SUCH AS A LAZY SUSAN OR TURNTABLE
We use these for corners, small shelves and anything that gets lost in the back. Lazy susan's or turntables allow for EASY ACCESS to EVERYTHING instead of the few items in the front.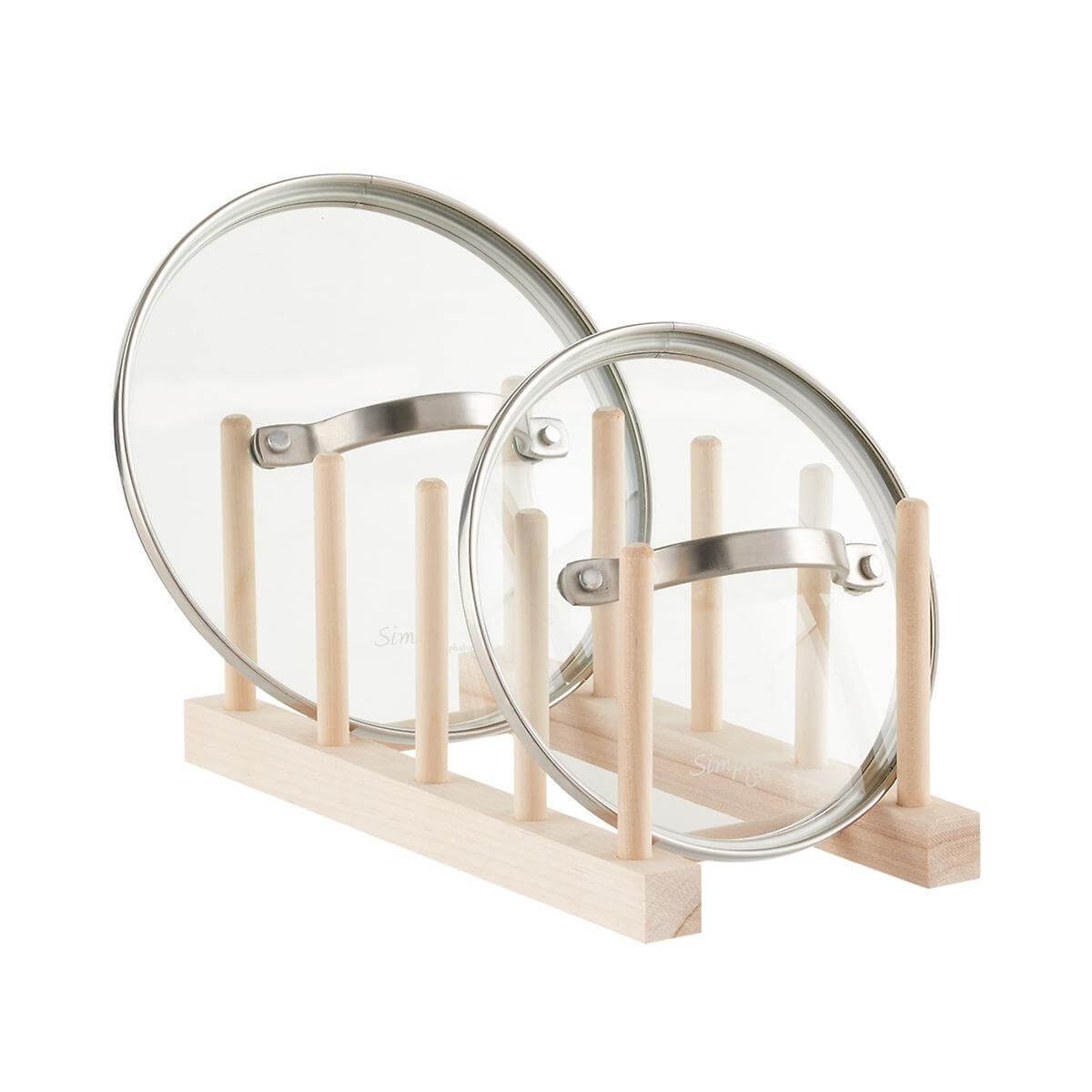 PAN AND LID RACK
Finally, the pan and lid rack. Wanna hear an organizer's secret? Store items vertically! It saves space and hassle when you're trying to get one of the items from the middle or bottom of the pile. You can use this for cookie sheets and casserole dishes too! it stand out
Step 5 - Labels. To take it a step further, labeling defines the boundaries you just set by the product.
Labels give people a clear understanding of what belongs in each home created. And hopefully people respect the boundaries set and are no longer putting oven mitts with the mugs.
And of course, there is always the option of hiring a professional kitchen organizer but in case you want to try this on your own, we hope these organization tips help the process.
JUNE 13, 2022