Organizing, Custom Designing, or Both
There is no such thing as perfection. But when it comes to home design and organization, we can work hard to fine-tune the spaces until they are "practically" perfect for your needs. When optimizing or perfecting your spaces, the biggest question is: do you need a professional organizer, or do you call a closet designer? Or, maybe you require both?
Knowing where to begin is an essential first step in your path to perfection. We're going to dive into the process of what it is like working with home organizers at Organized by Keli & Co so that you can make sure you are hiring the right person for the job. After that, we will briefly explain the benefits of working with a closet designer as well.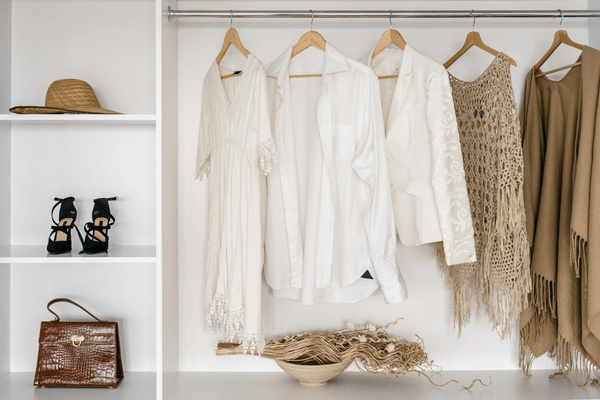 The Process to Organization
Not every professional home organizer will have the same processes in place, so finding the one that speaks to you is important. When I initially talk to potential clients, I allow them to brain dump and get everything out in the open. This helps me determine whether we will be the right fit for their organizing project—because sometimes, they may need something a little outside of our scope.
So what exactly am I listening for when it comes to the ideal Organized by Keli & Co. client?
Someone who is looking to optimize their current spaces and systems but doesn't have the time to do so

Someone who is overwhelmed with the way their lifestyle/home currently is

Someone who had a major transition in their life and needs help to get back on their feet
These types of people are the ones where our services are most beneficial. They want organization and structure in their lives. At some point in their lives, they probably had it. We are here to help them regain control and move forward.
Our Home Organizing Service Offerings
At Organized by Keli & Co we offer several different service options that meet the needs of our clients. Three options are available for our clients depending on the needs and the scope of their project. Some clients even opt for a hybrid of a few service styles- during the consult we determine the best fit.
Virtual Coaching: Via a Zoom call, I coach you through the process of organization. This is a budget-friendly, hands-off approach that allows you to invest more of your own time if you have it.

1:1 Services: These services are best for someone who wants to go through their items more slowly in a specific space. We reserve approximately 3-4 hours per session for these services due to the decision fatigue that may creep in for the client

Team Organizing: This is the most popular service we offer. Team organizing is for the client who wants us to put systems in place and items where they belong. Sometimes we enter a home with a clean slate right after a move, and other times we come in to makeover or fine-tune specific areas or the whole house. When we are working on a whole house, multiple sessions are scheduled so that our team can efficiently tackle the entire project.
Learn more about our organizing services and how your home can benefit from a professional organizer.
The Client Who Needs a Referral
There is another type of client I listen for during our initial consultation. This is someone who may have just moved in, but the current shelving systems in their new space aren't fitting their needs. They don't need help knowing where to put things. They just need a new system altogether.
This is the person I would refer to a closet designer, like my friend Tia Hunsperger at the Closet Factory.
The Process to Design
Putting an entire custom closet or pantry system together and installing it is outside of our scope here at Organized by Keli & Co. However, we love partnering with the Closet Factory to provide you with options so that you can make your spaces fit your needs. Tia is a top-notch designer and has great ideas to make any space in your home function.
Tia approaches her clients in much the same way we do over at Organized by Keli & Co. Her design sessions always begin with a consultation and a look at the space. She listens intently to what her clients need, what their space is lacking, and how she can make their routines more efficient. After this, she can draft up a design and quote.
Tia always tries to get a sense of the general budget ahead of time. She finds that function is a top priority, budget is a close second, and aesthetics follows close behind. All three of these components are essential to creating a system that will work long-term for her clients.
Closet designing is strictly designing—no organizing.
This is where organization and design can go hand in hand. The Closet Factory may come in and design and install a new system for a client, but that is it. If a client needs further help with organization and decluttering to start their new space off right, they now need an organizer!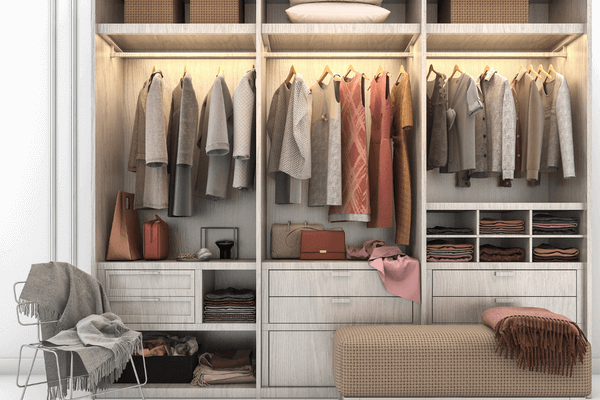 What do I really need?
For some people, this may be a difficult question to answer. For others, they will know what is lacking in their home. It may be missing functional spaces, organized spaces, or both. At the end of the day, if you need someone to help makeover an area in your home, none of these options are right, wrong, better, or worse.
There are many ways to organize your home and make your spaces work. Aligning what you want and need with the process you are looking for is key. Both organizers and designers can help you find that sweet spot in very different ways.
As you make your decision, consider these factors:
Work with someone that fits your style. At Organized by Keli & Co. we are fortunate to have a team of organizers with different approaches and personalities that work with our clientele to achieve their goals.

Get to the heart of function to figure out what will work for you/your family.

Keep your budget in mind. You need to put your money where it makes the most sense, whether that means investing in product and organization or investing in brand new closet systems. Maybe your budget includes both.

If you are uncertain, begin with one space. Once you can see how the process works, you may choose to tackle another space or your whole home. Organizing and designing your home can become a fun, addicting process!
If you aren't sure where to begin, start by talking to us. We listen to your needs on both budget and aesthetics to help you determine your project needs and get the perfect results. You can contact us at Organized by Keli & Co. to talk through your pain points and discover what your spaces need to become a beautiful, functional home.
Originally posted OCTOBER 8, 2021