You're probably preparing your kids to go back to school, but are you preparing your home for the back to school transition?
Back to school can be a stressful time for everyone involved—parents, teachers, students, you name it. However, there are many ways we can get ourselves and our children prepared for a successful year by prepping our homes and going forward with a perspective that we use many times over in the organizing world: keep it simple and easy to maintain.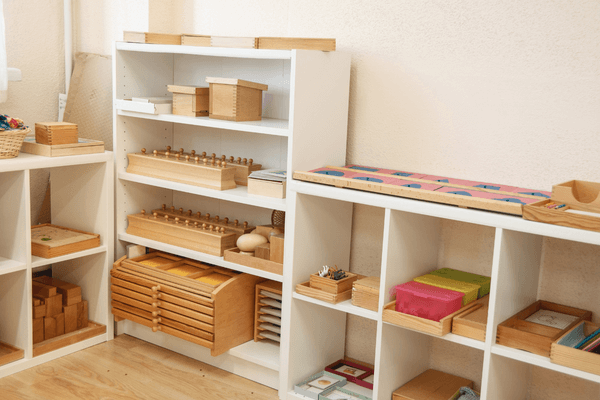 Prepare Your Home Environment
Before I became a professional organizer, my background was in education. More specifically, I have extensive experience in Montessori practices.
One of the biggest takeaways from Montessori teachings is the prepared environment.
We need to prepare an environment where our children can gain confidence and the tools needed to handle anything that comes their way.
So how do we accomplish this when it comes to preparing our homes and our children for the school year?
Transition periods can cause anxiety in many children and going back to school is one of the biggest transitions of the year for them. It is our job to prepare the environment so they can move forward on their own, but it is not our responsibility to do everything for them. Sometimes the lines can become crossed, but by setting up your home and your children with manageable routines, you can help cultivate that independence they need to feel confident and comfortable for their new school year.
Transitions
Creating a crisp transition is going to be the most beneficial for your children—especially for the younger ones in your home. Having clear routines that say "I am going to school" and "I am coming back home" are going to help them stay focused. It also lets them know that you believe in their self-confidence which assists in making the transitions easier.
Command Center
You want to make communication a breeze for the school year and set your expectations in the very beginning. Creating a command center or a specific area where you can communicate with your children is essential. This prevents important papers, documents, and notes from being lost in the shuffle. That designated spot is an easy area for your children to drop off items for you to review/sign if needed and then leave for them to take back to school. This area of communication is going to be important all year long and lets your child practice and perfect their skills in independence.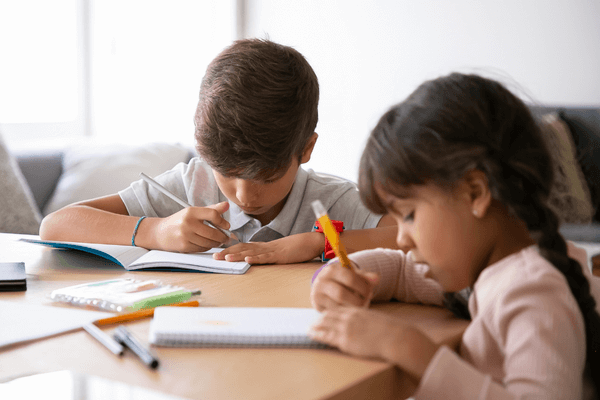 A Homework Space
Your children go to school and sit at a desk all day long. Then, they come home with homework. While your first thought may be to set them up with a desk, it may be stressful for your children to want to come back to their home environment and sit back at a desk. It will feel too much like school. Instead, give them alternatives for doing their work so it feels less like their school day. Some great ideas for both littles and big kids are:
Create Simple Routines
The most effective way of setting your children up for a successful year at school is to create simple routines at home for both morning and night. Furthermore, practicing those routines before the school year will have everyone feeling ready that first day of school. These are some tips for getting the most out of your day and feeling prepared and ready to tackle anything.
Part of establishing routines is to talk about expectations with your children ahead of time. Depending on their age, expectations may look a little different. Having a place for everything is important. Communicating those expectations early on while help for a smoother transition for the year.
Evening and Bedtime
When it comes time for school days, the more prepared you are in the evening, the easier the morning will go. Consider making lunches the night before, taking out your outfit for the next day, and getting that backpack ready and in an easy-to-grab location.
Did you know it takes 5-10 days to change sleep structure? If you've been soaking up all those extra summer hours like most of us, it can be very hard on a child to suddenly switch gears and get to bed on time. Give yourself a good two weeks to start pulling back that bedtime and getting kids up and ready in the morning.
Before School
Typically, children have about an hour or so to focus on getting ready in the morning. This includes eating a balanced breakfast, getting dressed, taking care of personal hygiene, grabbing all items for school, and getting to school on time. Since you've simplified the morning routine by setting everything up the night before, it should make it easier for your child to get ready and out the door in the morning.
After School
Expectations should remain the same for when your children return home from school. But make the transition easy. Create a drop zone inside your door for shoes and their backpack. Give them a space to put their lunchbox. Give them a moment to get settled, grab a snack if they are hungry, and unwind before diving into their homework for the evening.
Back to School Preparations: Some Final Thoughts
The thing about back to school is that I could go on and on about how and what to organize and how to prepare different aspects of the back-to-school process. However, the main takeaway is that listening to your children and giving them what they need will make all the difference in the world.
Want to make it your most successful year yet? Here are some final thoughts on how you can get your home and your children organized for the upcoming school year.
Help them develop life skills: Some kids are going to need longer than others to develop and master the skills they need to get through school. Skills such as time management, organization, and cleanliness are ones you can nurture at home that will carry them throughout their lives.

Limit morning screen time: When it comes to before school, some families allow screen time while others do not. My only suggestion here is to let screen time be something that puts your kid in active mode vs. passive mode before they head off to school. Educational games are going to be much more beneficial than staring at the television.

Minimize backpack clutter: Keeping a clean and organized backpack alleviates the risk of losing items or misplacing things. Help your children stay on top of their backpack's cleanliness. When it gets out of control, be there as a guiding voice to get them to go through and organize it themselves.
And if you want to know the secret sauce to make sure your kids have a successful year it is this: ask them what their best year would look like and how you can support them to make that happen. When you change the perspective, you offer support and encouragement as they navigate the changes themselves and reach their own goals.
Want some help getting your home organized and structured before the kids go back to school?
Originally posted AUGUST 12, 2021