Casual or Pinterest-Worthy, Create and Maintain Your Pantry Through the Shifts and Seasons of the Year
The Pantry. One of the toughest areas of the home to maintain because everyone in your home is constantly in and out of it throughout the day. However, an organized pantry creates ease and accessibility to your meal prep. Whether you are striving for a simple and casual pantry or Pinterest-worthy perfection, we've got some tips on how to style, stage, and implement sustainable systems to maintain your pantry throughout the year.
There Are Three Main Pantry Personalities
In our experience, we organized for three pantry personalities: casual, classic, and custom. Each is very distinct in the types of products used, the budget allowed for the project, and the amount of decanting we do.
The Casual Pantry
The casual pantry is for the busy, budget-friendly household that wants a functional space. It may not be the pantry of dreams, but it is the pantry they need to support their daily routines within the kitchen.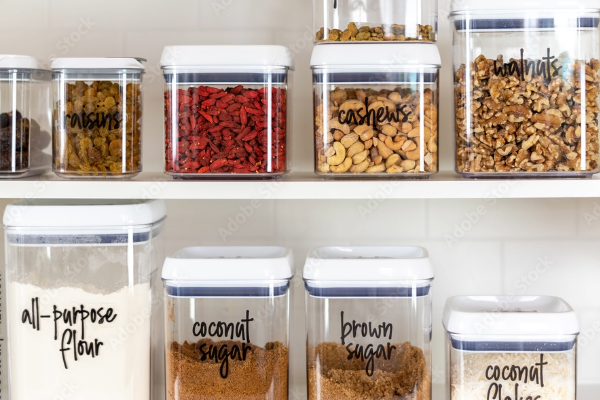 Casual pantries may have a few items decanted, but not always. These households may repurpose existing bins and/or invest in additional inexpensive plastic or acrylic options.
The Classic Pantry
The classic pantry takes functionality and levels it up with more flair. It is practical, easy to navigate, but pretty to look at. You can find some Pinterest-worthy pockets in this pantry.
Our classic pantries will decant some items, like baking supplies or cereal. However, not every single detail needs to be meticulously decanted. These pantries use a lot of hyacinth or metal baskets. These pantries will use fewer plastics, but you'll find more acrylic used in these pantries.
The Custom Pantry
The custom pantry is your Pinterest-worthy, eye-popping, stylishly organized pantry with all the bells and whistles. Flow is equally important to the aesthetics in this space. Our team decants at least 90% of items in a custom pantry, and the supplies used include glass, metal, and a few fun baskets sprinkled in.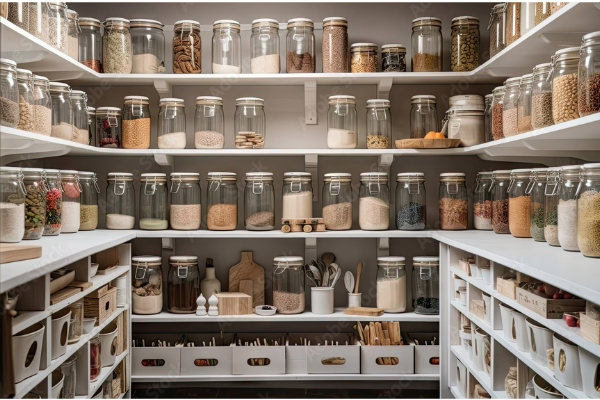 The budget for custom pantries is generally much higher because these homes desire a specific, high-end appeal to their spaces. The more decanted a pantry is, the more time-consuming and costly it becomes.
Four Things to Consider When Determining Your Pantry Personality
Why have we boiled down pantry personalities into three easy categories? Some people want to bring budget-friendly function into their space. Some want a customized dream pantry. Many fall between those options.
While you may think you want a Pinterest-perfect pantry, consider the time and price commitment that comes with that. They are undeniably pretty and visually clutter-free, but they are also pricey and require serious maintenance. For most people, that isn't practical.
Determining your pantry personality is central to creating a system that works long-term for you and your household. So, what should you consider when deciding on your pantry personality?
Visibility
How visible do you want your pantry to be? What is the visibility like currently? Do you have a walk-in pantry or not? What kind of shelving do you have in your pantry? The answers to these questions can point you toward the type of pantry organization to use.
For example, if you have a standard pantry with wire shelving, a casual or classic pantry with a door to help with visual clutter may be more your lane. If you've invested in custom shelving in your pantry and have a walk-in, you may lean toward a higher-end pantry organization style to complement it.
Time Commitment
How easy do you want it to be to reset your pantry space? For some people, the ease of restocking their pantries trumps beautifully decanted items. For others, the aesthetics of the pantry and maintaining that Pinterest-worthy look is worth the time.
Decanting does take time and commitment to maintain. If you know you aren't going to decant every time you restock, then a custom-organized pantry may not be your thing.
Budget
What kind of budget do you have for your pantry? If you need to start from scratch, purchasing higher-end items may not be practical right now. Custom pantries have quite a bit of up-front cost to achieve.
You can create a beautiful and well-organized casual pantry utilizing existing household bins and/or purchasing budget-friendly organizing products, like The Home Edit Collection at Walmart, that are practical and pretty.
Higher pantry budgets have many options, such as glass canisters, metal bins, or natural baskets that give you a customized, systemized look. Select elements that tie in with the rest of your home's aesthetics for an intentional approach to home organizing and styling.
Priority Items
What takes priority in your pantry space? If you've read our blogs or follow us on social media, you've heard us talk about zoning throughout your home. Dividing your pantry space into zones will help you prioritize your items and create the kind of pantry you need to keep those zones in check.
As a reminder, zone one items are everyday, on-hand items. Zone two is for frequently used, but not daily used, items. Zone three is for infrequently used items; these can be out of sight, and out of mind for most of the year. Sometimes, these zones will switch seasonally, and zone three will squeeze into zone two (think Christmas, Thanksgiving, Easter, etc.).
A main thing you need to consider about your pantry when deciding between casual, classic, or custom is this: how much of your pantry is devoted to food? Not everyone uses every square inch of their pantry for food. Some pantries double as storage for cleaning supplies, utensils, or baking dishes.
If you have a large walk-in pantry and a deep love for baking, you may lean towards a custom pantry that supports that love of baking by displaying and decanting your favorite baking supplies.
Sharing space with other items may not be a priority if you have minimal space in your pantry. Your priority may lean towards a functional space that supports your family's daily nutritional needs. In this case, a casual pantry would work exceptionally well.
Tips For Maintaining Your Pantry
Styling your pantry is fun, but maintaining what goes on behind the door is even more important. Our pantries are constantly turning over, so micro-organizing is not sustainable. Your pantry is a high-traffic spot and changes even more than the closet. Here are some ways to maintain your pantry even as your lifestyle changes.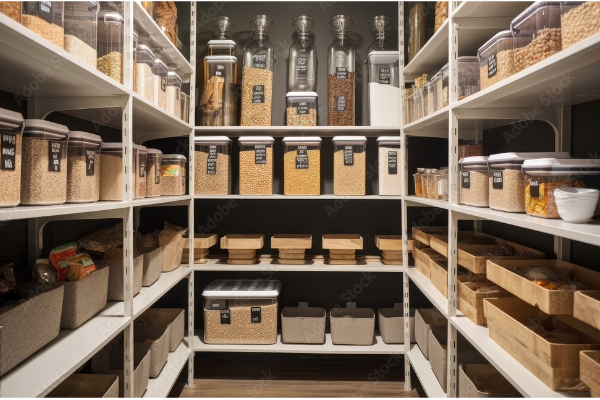 Categorize Your Pantry from Top to Bottom
Concentrating on subject matters within your pantry helps keep it in tip-top shape and creates flow when systemizing. Our team at Organized by Keli & Co has been doing this long enough that we've come up with the most common categories you will organize around in your pantry:
If you find yourself stuck or tripped up on categories, consider what gets restocked or replenished the most and default to the action. DIY pantry organizing doesn't have to feel overwhelming if you can concentrate on categorizing by action and maintaining a steady supply of items in those categories.
Some examples of categorizing by action:
Eating breakfast = all breakfast items in one place

Baking = all baking items grouped together

Making dinner = all meal prep items in one easy-to-grab spot
Label it All (Generally)
Labels are a great way to help your family navigate the pantry space and help with restocking. Labels are also essential in households that decant portions of their pantries (some baking supplies look eerily similar).
We use three different labeling methods to compliment your casual, classic, or custom pantry spaces.
Sticker Labels: Ordering pre-printed sticker labels are a great way to get a uniform look. They have a ton of options and more generalized categories. Multiple sets of stickers are generally needed as a single set does not provide enough for each category. We use sticker labels the most when organizing casual pantries as they are easy to select and budget.
Printed Labels: Printed labels give you exactly what you need–nothing more and nothing less. You can make printed labels on the spot, and they look great in any pantry style.
Custom Labels: For custom labels, we love using the Cricket machine. These are printed labels with much more flexibility. We can make as many as we need and even make individual letters. Custom labels are more time-consuming, but they look incredible and provide a beautiful finishing touch.
Create Flexible Zones
Depending on size, your pantry can double as zones for items other than groceries. The key to a well-organized pantry staying well-organized is creating flexible zones that can shift and change as your needs do.
Are you limited on counter space? Your pantry may double as a zone two for small appliances. In this case, your pantry keeps your frequently used appliances out of the kitchen but gives you easy access when needed.
The pantry can even become a zone for cleaning supplies, a temporary zone for holiday items, and potentially your zone one for pet needs.
Keeping Pantries Holiday-Ready
The holidays are stressful enough with activities, events, gatherings, and a (typically) fully booked calendar. Your pantry is a staple to get you through those holiday times. Instead of entering the season flustered, get on top of your pantry and make sure it is holiday-ready.
Before a holiday or gathering creeps up on you, take the time to check everything in your pantry. It is worth the refresh. Check expiration dates, take inventory, and make sure you have all the items you need to get through the holidays (especially those baking ingredients).
Avoiding this prep work can easily result in scrambling for missing ingredients down the road, which adds to the seasonal stress. Knowing what you have will save you time and money.
Now Trending: Custom Pantry MUST HAVES and How to Make Your Pantry Pop
We get the appeal of custom pantries. If you have the extra space to design the pantry of your dreams, why wouldn't you? Choosing a custom pantry takes commitment, time, money, and patience. Here are some tips for creating the perfect pop of personality in your pantry.
Decide which style you want in your pantry and how that fits into your home design.

If you go custom, you have to commit to custom. (Don't throw any plastics in there–you want premium, beautiful canisters, bins, and baskets to display your goods)

Your custom pantry should be uniform, decanted, and simple.

No more than five different elements should be used, but typically we recommend three (glass, acacia, metal, and woven baskets are top choices for custom pantries)

Give breathing room between your items; a beautiful, custom Pinterest-worthy pantry never looks crowded or overfilled.

Labels, especially with decanted items, are a must and super helpful. If you don't want to see them on the front, label the bottom or top.

Large pantries have SO much potential. They can double as a coffee bar, baking prep station, etc.

Have a large pantry? Add a countertop and get that extra counter space in there. Now items that clutter your kitchen counters can land in your pantry, leaving your counters looking clean and fresh 24/7.
Trust in Organized by Keli & Co to Make Your Denver Pantry Dreams a Reality
A custom, dream pantry is inspiring and looks incredible if you are willing to stick to it. At Organized by Keli & Co, we have worked with many clients and have seen people start the process and get lost in limbo because they don't know how to get from point A to point B. This is where an organizing team can come in and make a world of difference.
We know people love a good DIY, but pantries are one of the shiftiest places in our homes. Without a good foundation, it can become cluttered and lose its intentionality. Our home organizing services will help get you back on track to deliver on your Denver pantry dreams.
Organized by Keli & Co is a Denver, CO professional organizing business that can whip your pantry into shape in no time. Whether you want to keep it casual, go classic, or take it to the next level with a custom pantry, our team is highly skilled in achieving flow and function in your pantry space.
Contact us today to schedule your complimentary consultation and see how our team can help you create a functional pantry fit for your family.